A recent article in ComputerWorld explains the impact of the impending end of support for Office 2007. The following graphic from the article shows how Office 2010 is already in extended support.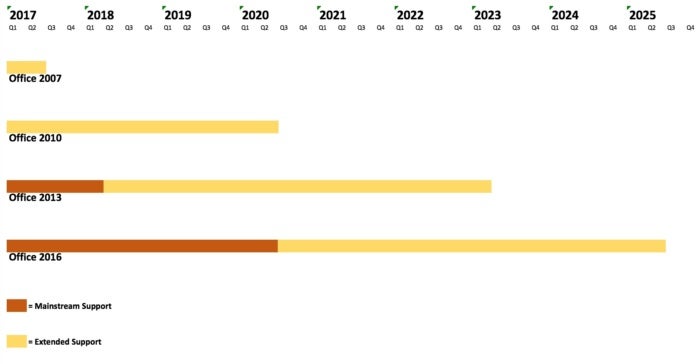 One of the biggest issues is for users of Office 365 and the inability of Outlook to communicate with Microsoft's cloud mail service.
The world is moving towards the cloud deployment model faster than ever and small to midsize companies have choices. These choices depend upon your business horizon and philosophy:
If you view technology as a cost, you may want to consider moving to Google apps or other "low cost" cloud options. To you the cloud is IT outsourcing, and price is likely the prime consideration. Depending upon your personal preference, you may think full cost applications are better, but when viewing the world from a cost lens, good enough is most cost effective.


If you view technology as strategic, or a way to improve operational effectiveness and scale up your business, then you should be looking for a strategic cloud partner. To you the cloud is a transformative technology that will help you adapt your business to changing conditions. Finding a partner who understands your business, is responsive and that you can trust is key to success.
More an more of our customers are looking at virtual desktops and other methods to shift applications and computing power from the local PC to the cloud. In the cloud you get "subscription advantage" so that your version of Office is upgraded in conjunction with your core business applications and obsolescence is never an issue.